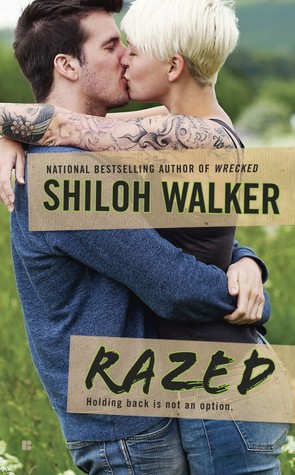 Razed
Author: Shiloh Walker
Reviewer: VampBard
Rating: A
What I'm Talking About:
Ms. Walker has certainly brought intense sexual tension to fruition with an explosive release in Razed. This second title of her Barnes Brothers series was most eagerly anticipated… Because I completely fell in love with Zane the moment I saw him in Wrecked.
Razed has the super-secret-ninja-identity trope, which is one of my favorites. I'll just leave this here to drive you crazy. Because I can't say more, or it'd be spoilery. So, if you're a fan of this trope like me, pick up this book. STAT.
If you read the first book, Wrecked, in this series (recommended to read the series in order) you'd remember that Keelie kissed Zach because she thought she loved him. But there wasn't fireworks. However, that didn't stop her feelings for him completely. Feeling awkward at Zach's wedding, Keelie was 'rescued' by Zane, Zach's older brother. The way that Keelie responded to Zane WAS full of fireworks. In the best possible way *fans self*. What was extremely interesting for me was watching Keelie interact with others. We found out early on in Razed that there was something going on with Keelie. The way that Ms. Walker built up that plot point was extremely skillful and kept me flipping pages as fast as I could muster. It also made me stay up WAY past my bedtime. Always a sign of a well-written book and engaging plot. And this part of Keelie's storyline?!? BAM! Never saw it coming. Nev-er.
Now Zane also has a huge secret lurking in HIS backstory. I was equally in awe of the handling of his admission as I was Keelie's, but it also brought up some bullying baggage I thought I'd left behind from grade school. LOVE Zane. Did I mention that?!?! And really, who wouldn't love a sensitive, artistic photographer that has pined after—and tried to win over—a woman for three years? I think what I love most about Zane is that he's perfectly content to wait for Keelie to be ready for their relationship. He doesn't really frame it as an 'if' either. It's as though Zane instinctively knew that Keelie was right for him. I think that's why I fell for Zane. To be that confident and patient with someone who was obviously skittish about becoming entrenched in a relationship was pretty special. I love the way that Zane looks at things, too. The awe and wonder of a child. Innocence striving to shine through that is tainted by reality. It's the artist, I think, that calls to me.
It's always hard to write a comprehensive review for any title by Shiloh Walker. I don't want to give away any element of the plot because it's so much fun to watch the story evolve. She always writes about hard-hitting topics that make a reader think—but not in an overly analytical way. Because she does this, I want to warn readers about possible triggers: bullying and rape. Both are handled well, and nothing too graphic is relayed. And, because of the bullying topic, I paused to reminisce about the days that I was a victim.
Razed is definitely Keelie and Zane's story. It's all about them…except for a smidge where we learn a bit about one of the other brothers. Who is NOT the focus of the next book *sideeye*. Way to taunt me, Ms. Walker! There's an awesome teaser of the next Barnes Brothers title at the end, and I must admit, my interest is piqued mightily. Busted, Trey Barnes's story, is on my eagerly anticipated list for 2015.
My Rating: A, Loved It
About the Book:
Tattoo artist Keelie Jessup can handle that someone else has claimed the man of her dreams. She's just not pleased with her remaining options…
Keelie doesn't believe in the "perfect man." But the men who are worth the trouble are usually taken—like her business partner Zach Barnes. After a string of bad luck and the lost chance with Zach, Keelie decides that maybe flying solo—and living with suppressed desires—is the key to happiness.
As a photographer, Zane Barnes has an eye for the human form, and his eyes can't get enough of Keelie's curves. Unfortunately, Keelie is like most women—always fawning over his little brother, Zach. Zane is about ready to give up, but then a few stolen moments at his brother's wedding have him thinking maybe there's a chance there after all. Now he just has to prove that the perfect man does exist…for her.
Release Date: December 2, 2014
Publisher: Berkley
Series: Barnes Brothers #2
ISBN: 978-0425273906
Genre: Contemporary Romance
Format(s): paperback (320 pages), e-book
Book Source: Publisher/NetGalley
Purchase Info:
Razed (Barnes Brothers #2)
Reviews in the Series:
Wrecked by Shiloh Walker (Barnes Brothers #1)