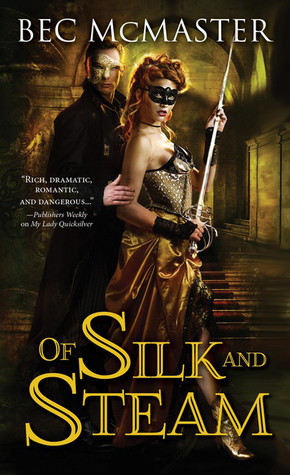 Of Silk and Steam
Author: Bec McMaster
Reviewer: Jen Twimom
Rating: A-
What I'm Talking About:
For fans of the marvelous London Steampunk series, this is the book we've been waiting for. I strongly recommend to start this series with the first book, as there is a long-running overall story arc that concludes with Of Silk and Steam.
Readers of the series know that Leo Barrons, acting head of one of the ruling houses sitting on the council of Dukes, isn't actually the Duke of Caine's son. A secret he has hidden for nearly his entire life, Leo knows if it is discovered, he will be ruined. Meanwhile, Aramina "Mina" Duvall is the only female blueblood in the Prince's court. Leo's father killed her father, the Duke of Casavian, leaving her as his only heir. For this act, Mina is determined to destroy both Leo and his father.
The story opens with Mina carrying out a secret task for the human queen. When the man she rendezvous with is murdered by the prince consort's personal guard, Mina must recover incriminating evidence from the body. With Leo making an appearance, she reluctantly accepts his help, which places her at a disadvantage of now being in his debt. The pair share an intense and immediate chemistry, of which Leo would like to take advantage. As the pair digs deeper into the situation, they uncover a terrible plot that will impact the entire Echelon, and they must decide if they will trust one another and work together.
Right from the start of Of Silk and Steam, it is clear that Leo wants much more from Mina than a truce and mutual aid. Learning from his point of view that he has long desired and admired her, his playful games at winning her attentions are clearly a way to express his feelings while protecting his heart. He treats Mina with such genuine kindness, it keeps her off balance, causing her to question all that she holds true about her longtime rival. I adore how he never loses faith that he will win her over and the grace he upholds when his heart is broken from betrayal. Barron wants Mina so badly, and not just for her body. He has admired the whole package: looks, wit, brains, brawn, for years and wants her as his partner and equal, yet she can't understand that. So he has broken her down slowly over the years until now, when it's time to make his moves.
Unlike Leo, readers don't know much about Duchess Aramina Duvall, and I for one was pleasantly surprised by some of the amazing details uncovered about her life and interests. She and Leo have far more in common that we have been lead to believe. Since I want this to remain generally spoiler-free, I'm not going to provide details, but suffice to say, the duchess has been a big part of the larger story, and we are made privy to the details over the course of the book. While mostly I enjoyed this part of the story, and really liked how it kept Mina's attentions divided and uncertain, I was a bit disappointed with the extent of her "reach" within the larger picture.
As with the prior books in this amazing series, the emotional intensity is sublime. Ms. McMasters pens some of the most passionate and electrifying scenes, pulling together emotions, heat, and sensuality to create perfection. In more than one scene, the author leaves at least one of the characters bared to the other, causing my heart to pound. Watching the pair slowly learn to trust one another and explore the flames that fan between them is highly enjoyable.
Beyond the romantic elements of the story, readers are treated to a suspenseful, high octane political thriller as the prince consort exerts his might over the council of Dukes. Signs of insanity bleed through as the ruling blueblood makes irrational decisions and accidents begin to happen to those that oppose him. His actions force a confrontation between the ruling party and Blade, protector of the common folks among the rookeries. Ms. McMaster brings back all her characters and ties up many loose ends to conclude the long-running story arc. I throughly enjoyed watching everything play out and following beloved characters throughout the story.
Of Silk and Steam is another exciting story in the phenomenal London Steampunk series. With its powerful sweep-me-off-my-feet romance and high-intensity action, I found I could not put it down. On its own merits, the book is wonderful, and as part of the larger series, an excellent conclusion – bringing together bits and pieces from each of the preceding books in a powerful culmination. I just hope this wasn't the end of this wonderful series!
My Rating:  A- Enjoyed A Lot
About the Book:
Enemies. Allies. Lovers.
When her beloved father was assassinated, Lady Aramina swore revenge. The man responsible is well beyond her grasp, but his dangerously seductive heir, Leo Barrons, is fair game. When Mina obtains evidence proving that Leo is illegitimate, she has the means to destroy both the killer and his son, a man who troubles her heart and tempts her body.
A woman of mystery, Mina's long driven Leo crazy with glimpses of a fiery passion that lurks beneath her icy veneer. He knows she's hiding something, and he's determined to unravel her layer by silken layer. He just doesn't expect the beautiful liar to be the key to overthrowing the corrupt prince consort… or to saving his own carefully walled-off heart.
Release Date: March 3, 2015
Publisher: Sourcebooks
Series: London Steampunk #5
ISBN: #978-1402291944
Genre: Paranormal Romance, Steampunk
Format(s): paperback (416 pages), e-book, audiobook
Book Source: Publisher/NetGalley
Purchase Info:
Of Silk and Steam (London Steampunk #5)
Reviews in the Series:
Kiss of Steel by Bec McMaster (London Steampunk #1)
Tarnished Knight by Bec McMaster (London Steampunk #1.5)
Heart of Iron by Bec McMaster (London Steampunk #2)
My Lady Quicksilver by Bec McMaster (London Steampunk #3)
The Curious Case of the Clockwork Menace by Bec McMaster (London Steampunk #3.5)
Forged by Desire by Bec McMaster (London Steampunk #4)