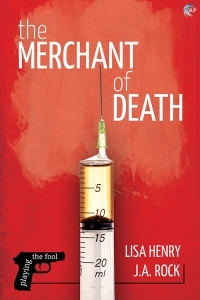 The Merchant of Death
Author: Lisa Henry + J.A. Rock
Rating: A-
Reviewer: B.
What I'm Talking About:
Picking up immediately where Two Gentlemen of Altona ended, The Merchant of Death takes us even deeper into Henry's world, even though Mac still has plenty to worry about, too. After nearly arriving at a temporary, but seemingly acceptable, understanding about their growing attraction to one another at the end of the previous story, both men were left shaken when Henry was abruptly called away again. By the time they are reunited, along with mutually vehement expressions of "I wish I hated you" borne on a wave of fury and kisses, Mac knows he's in serious trouble—on several fronts.
We're also introduced to Viola, Henry's twin sister, and through her, we see the existence that he has made for himself since living on his own after their mother died. It's not a pleasant picture, as Mac has begun to discover. Though she is now in need of full-time care, Viola is exceptional in her own right, and has a unique way of looking at her life, which is full of complexities she's not often given credit for navigating as well as she does.
Another of my favorite things about The Merchant of Death is that the fire that exists between Mac and Henry is still building, a fact that I was very relieved to see, especially after having caught up on the first book. They're a particularly riveting couple when Henry is flirting with Mac while wearing a wig and a thin, summery dress. Or, a floral babydoll. Or, black chiffon, come to that. Mac is hilariously dumbfounded quite a bit of the time as a result, but the denial and accompanying inability to help themselves is lovely.
Despite both Henry and Mac's determination for much of the series that they are polar opposites, by the end of The Merchant of Death, they are forced to accept the fact that things aren't that tidy anymore. As their worlds appear to merge, it seems as if it's really just the two of them being pushed away from everything they know, and trying to gain some middle ground as they're caught by one another's pull. With no safe haven left, traitors all around them, and killers on their trail I'm not sure how they'll manage to make it through. But, I can't wait to find out.
My Rating:  A- Enjoyed A Lot
About the Book:
All's fair in love and war.
There's something rotten in the state of Indiana. When con man Henry Page takes it upon himself to investigate the death of an elderly patient at a care facility, he does so in true Shakespearean tradition: dressed as a girl.
FBI Agent Ryan "Mac" McGuinness has more to worry about than Henry's latest crazy idea. Someone is trying to send him a message—via a corpse with a couple of bullets in it. He needs to figure out who's trying to set him up before he gets arrested, and he really doesn't have time for Henry's shenanigans. Then again, he'd probably be able to focus better if Henry didn't look so damn distracting in a babydoll dress and a wig.
But when Mac discovers that Henry has been keeping a secret that connects the cases, he has to find a way to live on the right side of the law when he just might be in love with the wrong sort of man.
Release Date: February 2, 2015
Publisher: Riptide Publishing
Series: Playing the Fool #2
ISBN: #978-1626492219
Genre: Mystery, Romance, LGBTQ, m/m
Format(s): paperback (222 pages), e-book
Book Source: NetGalley
Purchase Info:
The Merchant of Death (Playing the Fool #2)
Reviews in the Series:
Two Gentlemen of Altona (Playing the Fool #1)