In celebration of today's release of The Danger of Destiny, the fourth and final book in the awesome Mystwalker series, author Leigh Evans is here to share an interview from When Why and Were with my favorite Were, Cordelia. Plus, keep reading for your chance to win a set of the entire Mystwalker series! Please help me welcome Leigh to That's What I'm Talking About…
What follows is the transcript of When Why and Were's interview with Cordelia La Rue, a prominent pack member of the Creemore wolves, and close confident of Hedi Peacock Stronghold and Robson Trowbridge.
***
Cordelia, what was your first impression of Hedi Peacock Stronghold?
I thought she was trouble with a capital "T." I had never envisioned Robbie with a—
I'm sorry to interrupt but for the benefit of our readers, who is Robbie?
Robson Trowbridge, present Alpha of the combined Creemore Pack, and mate to the aforementioned Hedi Peacock.
Ah. Most people usually refer to him as Alpha or "Trowbridge." 
How very manly. However, my association dates back to the period when he was known as "Young Robbie."
How old was he when you met him?
A rather luscious sixteen.
I'm trying to imagine the leader of the Creemore wolves as a teenager. He's gorgeous now—what was he like then? 
He was every woman's walking dream.
Could you tell us how you met him?
That's personal, poppet.
The Trowbridge/Peacock union has really stirred a climate for change in the Were community at large. If it could give people an insight into the Alpha and his—
Once more into the fray for the benefit of the pack, is it? Darling, before I spill my soul into your tape recorder for the curiosity of those who read When Why and Were, I suggest you find me something stronger than this glass of rather inferior white wine.
(At this point, the interviewer paused the tape and ordered a premium bottle. After a few sips of scotch, Cordelia indicated that she was ready to resume. She leaned back in her wing chair and began…)
I had isolated myself from the pack for several years, only choosing to visit Creemore very sporadically. I didn't need them anymore. I had made a new life for myself in Toronto; a very full one with a following of my own. I was a performer, and I did quite well, earning good money with my act.
You were a drag queen, weren't you?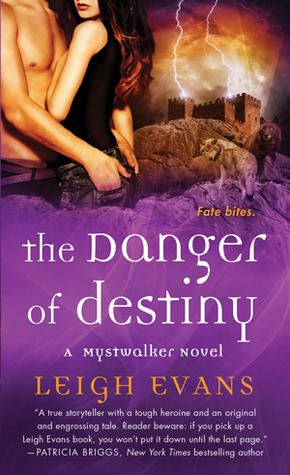 No, peaches, I was 'the' drag queen. I was top choice. Pick of the litter. At least that's what I thought the night I sashayed back to Creemore.
Why did you return home?
I had received news that a very dear man—someone I had once counted as my only true friend—was dying. In my opinion, my old friend had never lived an authentic life. I wanted him to see me, one last time, in all the richness of my full authenticity.
You mean, you wore drag?
I wore what I have chosen to wear every single day since that evening.
The Were community in Creemore was fairly conservative in the nineties. Some might consider wearing drag as a brave choice.
It didn't feel like a choice.
What happened?
The obvious: my friend died. (Cordelia paused to take another long swallow of scotch. Then she lifted a shoulder and continued.)  And the rest of the pack saw me in my true nature. Most didn't give a toss but there will always be a few dim-eyed sods who do. Three malcontents caught up to me before I got out of town.
Was it bad?
It could have been, except for Robbie. (She smiled.) I was wearing my best outfit, you see, and was loathe to ruin it. However, before I split the seams of my Chanel jacket that beautiful boy waded into the fray, arms swinging. When it was over, he said, "Need a hand up?" And from that moment on…
You loved him.
And that is personal too. Are you still curious as to what I thought the first time I saw Hedi Peacock?
Yes.
That Hedi Peacock Stronghold was going to be the game changer. She was the woman Robbie had always wanted but never known he'd needed. She was going to be so much trouble…
There's real affection in your voice when you speak of her. 
It's strange how life turns out. Now, have I spilled my soul to your satisfaction? Shall we call this interview finis?
One last question. 
Better make it a good one, love, this scotch is not nearly as good as you think it is.
Cordelia, you don't have much page time in The Danger of Destiny. What are your feelings on that?
I shall strive to contain my disappointment.
You're smiling.
That's because I know Leigh Evans, and how she feels about debts due and debts honoured.
Now you're really smiling.
I'd say the woman owes me a story, wouldn't you?
About the book:
WHY WHISTLE IN THE DARK…
There are very few days off when you're on an epic quest. Believe me, I know. I'm Hedi Peacock—one half Fae, the other Were—and if being a half-breed with one foot in each world isn't tough enough to manage, there are the four chambers of my heart to consider. The one who holds the strings? Robson Trowbridge, the Alpha of Creemore. If I had my way, he and I would be locked in a bedroom, for eternity, but a pressing family matter needs my attention. It's true what they say: A woman's work is never done.
WHEN YOU CAN HOWL AT THE MOON?
My twin brother is being held captive by the Old Mage in another realm. Lo and behold, as soon as Trowbridge and I arrive in Merenwyn, we're separated in spectacular, dramatic fashion—and I'm left to figure out how to maintain the fragile balance between my Fae magic and my wolf's blood in a realm that cries to both. Not easy, particularly when I'm keeping an iron-grip on my temper so as not to dispatch with extreme prejudice the odd wizard or smart-mouthed mutt servant who crosses my path. My mama never told me there'd be days like these, but I'm not going down without a fight…or my mate.
About the author:
Leigh was born in Montreal, Quebec but now lives in Southern Ontario with her husband. She's raised two kids, mothered three dogs, and herded a few cats. Other than that, her life was fairly routine until she hit the age of 50. Some women get tattoos. She decided to write a book. A little tardy, but then again, her Mum always said she was a late bloomer.
Giveaway:
St. Martin's Press is generously donating a complete set of the Mystwalker series (The Trouble With Fate, The Thing About Weres, The Problem With Promises, and The Danger of Destiny) to give away to one (1) lucky commenter. To enter, please fill out the Rafflecopter form AND leave a comment at the end of this post telling us which character (from any book) you would like to interview. The giveaway is open during the time specified on the Rafflecopter form. Winner(s) chosen at random from all eligible entries. This contest is open to U.S. mailing addresses only and where not prohibited by law. Open to participants, 18 years or older, who are legally allowed to participate in such a contest as allowed by their local laws. All federal, state, local, and municipal laws and regulations apply. Void where prohibited. No purchase necessary. By participating in the contest, participants agree to be bound by the decisions of the contest sponsor. Prize will be delivered by the author. This blog, its reviewers, and the owner are not responsible for items lost in the mail. By entering this giveaway, participants agree to abide by these terms.
If you have problems with the Rafflecopter form, please email me at twimom227 (at) gmail (dot) com.