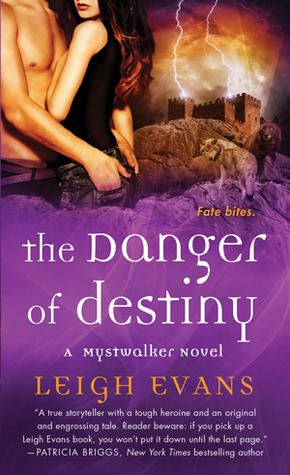 The Danger of Destiny
Author: Leigh Evans
Reviewer: Jen Twimom
Rating: A-
What I'm Talking About:
The Danger of Destiny is the fourth title in Ms. Evan's unique and exciting Mystwalker series. The story wraps up Hedi Peacock's journey from a small-time thief and barista to a powerful woman and mate of Robison Trowbridge, the Alpha wolf of Creemore. The book opens immediately after the conclusion of the previous book and cannot be read as a stand alone title. Although I needed to jog my memory a few times trying to recall prior events, the author does a good job of working in the necessary details so I wasn't lost and could enjoy the book.
Hedi Peacock and Robson Trowbridge are in Merenwyn, land of the Fae. Although they were forced through the portal by some unsavory Weres, the couple needed to go in order to save Hedi's twin, Lexi, who is bonded to the old Mage. Hedi sets forth on her epic quest to rescue her brother and defeat the Black Mage, while Robson also hopes to free the Raha'ells, an enslaved group of Weres trapped in Merenwyn. Although this seems a bit confusing, the story unfolds fairly straight forward and remains gripping throughout the book.
After witnessing Hedi's character mature in the previous book, I was grateful that she remained strong-willed and smart, while continuing on her journey and developing even more. But she retains so much of what makes her Hedi… her humor and wit remain light and silly. She's perceptive and knows when to be serious or when to lighten the mood, yet sometimes things just seem to pass her by. She is faithful to those she loves, keeping her focused on those around her, and even causing her to make a few tough decisions. Hedi finally comes to terms with her entire heritage – both the wolf and the fae, dealing with both spirits to give her strength and courage, and a few surprises along the way. The only negative thing I have to say is that she wields her fae magic around as if there were no repercussions, something that definitely could not and would not have happened in earlier books. No explanation was given for her increased ability, and I felt it was a little to convenient at times.
Since the story is told in the first person point-of-view of Hedi, we see everything as she perceives it, and this changed how I felt about both Robson and her brother, Lexi, as Hedi matured and developed a deeper view of her own world. I loved how the author made Lexi so morally ambiguous. It kept Hedi, and this reader, constantly wondering if he was worth redeeming, and even if it was possible. In addition, we see a harder side to Robson as he faces old enemies and takes on his full alpha responsibilities.
Since this is the final book in the series (unless I can convince the author more are needed!), several outstanding issues are tied up, to include Robson and Hedi's romance, what becomes of Mad-one, and whether or not Robson and Hedi can save the Raha'ells, just to name a few. As the series began, it also concludes, with an imperfect heroine doing her best. She's come a long way, yet I feel her journey is far from over; however, Ms. Evan's has ended the series in a good place. There are still several subplots that could be explored, and I for one would welcome additional stories.
In the end, I really enjoyed the Mystwalker series, and The Danger of Destiny is an excellent conclusion. I found the book to be much more straight forward than earlier titles, and I could clearly see the path of the story, while Hedi's thought process didn't seem to skip any steps – which had been a small issue with previous books. Even when the author tossed in exciting complications and engrossing twists, I felt it was explained in context so that I was easily able to follow along. I enjoyed Hedi's journey, and I am completely satisfied with where she finds herself by the end of the book. I also appreciate that not everything is perfect and questions still linger with respect to subplots and supporting characters. If you haven't started this series, I strongly encourage you to go back to the beginning and discover The Trouble with Fate.
My Rating:  A- Enjoyed A Lot
About the Book:
WHY WHISTLE IN THE DARK…
There are very few days off when you're on an epic quest. Believe me, I know. I'm Hedi Peacock—one half Fae, the other Were—and if being a half-breed with one foot in each world isn't tough enough to manage, there are the four chambers of my heart to consider. The one who holds the strings? Robson Trowbridge, the Alpha of Creemore. If I had my way, he and I would be locked in a bedroom, for eternity, but a pressing family matter needs my attention. It's true what they say: A woman's work is never done.
WHEN YOU CAN HOWL AT THE MOON?
My twin brother is being held captive by the Old Mage in another realm. Lo and behold, as soon as Trowbridge and I arrive in Merenwyn, we're separated in spectacular, dramatic fashion—and I'm left to figure out how to maintain the fragile balance between my Fae magic and my wolf's blood in a realm that cries to both. Not easy, particularly when I'm keeping an iron-grip on my temper so as not to dispatch with extreme prejudice the odd wizard or smart-mouthed mutt servant who crosses my path. My mama never told me there'd be days like these, but I'm not going down without a fight…or my mate.
Release Date: March 3, 2015
Publisher: St. Martin's Paperbacks
Series: Mystwalker #4
ISBN: #978-1250035110
Genre: Urban Fantasy
Format(s): paperback (432 pages), e-book, audiobook
Book Source: Author/NetGalley
Purchase Info:
The Danger of Destiny (Mystwalker #4)
Reviews in the Series:
The Trouble with Fate by Leigh Evans (Mystwalker #1)
The Thing About Weres by Leigh Evans (Mystwalker #2)
The Problem with Promises by Leigh Evans (Mystwalker #3)
Giveaway:
Please see the author's wonderful post (an interview with one of her characters) for a chance to win the full set of the Mystwalker series books (four books). For more details, click this link. Giveaway open until March 10, 2015 at midnight EDT.