Vampires Never Cry Wolf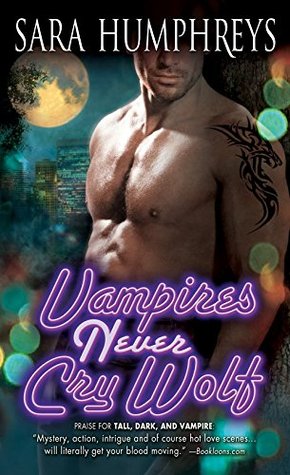 Author: Sara Humphreys
Reviewer: Gikany & Una
Rating: B
What We're Talking About:
Vampires Never Cry Wolf is the third novel in the Dead in the City series.  Gikany and Una liked the story of Killian and Sadie and we look forward to more in the series.
The Dead in the City series has an uncomplicated mythology and character driven stories.  It is filled with light but engaging paranormal romances.  This series is a delightful spin-off from the Amoveo series, and we have really enjoyed it.  We like how these two series are blended together despite with the slightly different mythologies between these two paranormal groups.  Well, three with the introduction of werewolves in the previous book, Vampire Trouble.
We liked the journey of Sadie and Killian.  Killian is a sensual and captivating alpha male who is also incredibly honorable and determined.  We enjoyed his playfulness.  What we truly loved about the couple was their open communication, even with its foibles.  In one scene, after Killian swears to not touch Sadie unless she asks, they find themselves in peril.  Sadie tells Killian to take her hand – which must have been enough because he touched her freely after that.  We liked seeing Sadie firmly in the role of the Coven Club owner. Seeing her grow out of her contented stagnant state to reach for a new reality was beautiful. The banter and playfulness between Sadie and Killian was fun, and watching them drive each other crazy was entertaining.
The advantage of the simpler mythology is that there is flexibility within it.  The mating between a wolf and vampire seems impossible, but Ms. Humphreys makes it work while also keeping in believable in this mythology.  Though the ending conflict seemed to come out of nowhere, we liked how it was resolved. It was touching to see that the open-mindedness of Killian and Sadie's families made the over-thinking and worrying they had done unnecessary. We especially loved Killian's father and we would have liked to see Sadie meet Killian's mother and sister.
Vampires Never Cry Wolf was a fun and quick read.  We liked Killian and Sadies's journey.  Although we would have liked to see more of their happily ever after, we look forward to the next novel in the entertaining and enjoyable Dead in the City series.
Our Rating:  B, Liked It
About the Book:
Sadie Pemberton is the DJ at the hottest vampire club in New York City, and she loves her freedom almost as much as she hates werewolves. She has no desire to tie herself to anyone for eternity—even the deliciously sexy Killian Bane—werewolf prince and heir apparent who has been sent to patrol the city. 
But Sadie bears the mark of the moon—the mark that Killian has been looking for, the mark that's meant to reveal his perfect mate. How can the fates be so cruel? Even more importantly, how is he ever going to change her mind?
Release Date: March 3, 2015
Publisher: Sourcebooks
Series: Dead in the City #3
ISBN: #978-1402274121
Genre: Paranormal Romance
Format(s): Paperback (320 pages), e-book
Book Source: Publisher/NetGalley
Purchase Info:
Vampires Never Cry Wolf (Dead in the City #3)
Reviews in the Series:
Tall, Dark and Vampire by Sara Humphreys (Dead in the City #1)
Vampire Trouble by Sara Humphreys (Dead in the City #2)