Welcome to my weekly feature that focuses on audiobooks. It's time to…
Audiobook reviews: Kowalski Family series
Author: Shannon Stacey
Narrator: Lauren Fortgang
Audio Speed: 1.25x
Series: Kowalski Family #3 & #4
Genre: Contemporary Romance
Source: purchased
Yours to Keep (Book #3)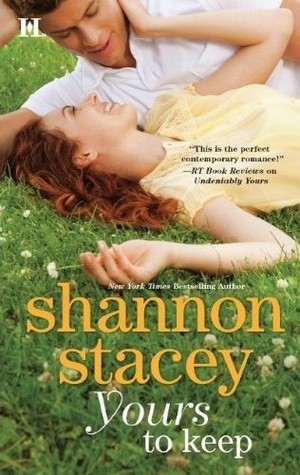 Sean Kowalski is finally home from a 12-year stint in the Army, most currently serving overseas in Afghanistan. Not ready to go to the family lodge in Maine, Sean makes a stop over in New Hampshire to visit his aunt, uncle, and cousins. To his surprise, he finds out that Emma Shaw considers Sean her "fake" finance, telling Grandma Shaw in Florida that Sean is living with her and helping take care of her large New England home. Emma and best friend Lisa Kowalski made up her fake relationship to pacify Grandma Shaw's concerns over leaving Emma alone when she moved to Florida. Now Grandma is coming to visit for a month and Emma wants Sean to move in with her and pretend to be the fiance Grandma believes he is.
I cannot express how much I absolutely adored Yours to Keep and continue to enjoy the Kowalski family. I was a bit concerned that moving away from the original family after only two books would be too soon, but Ms. Stacey intergrates new-comer Sean perfectly into the Kowalski fold. Emma and Sean's story is utterly adorible and simply lovely. While the fake-fiance trope could have been silly, instead, the story was full of humor and heart. At times I was laughing uncontrollably at the antics of trying to keep the various secrets straight and in place. The light-hearted humor and Kolwaski antics make this wonderful romance a perfect story.
After getting over the initial shock of suddenly being with one another under false pretenses, Emma and Sean realize that they cannot hold back their mutual attraction. Of course, spending so much time together, coupled with indulging in some extracurricular benefits, the pair begin to fall in love, all the while ignoring and denying the obvious signs they are happy being a couple. The pace of their romance and the overall story is perfect, keeping my earbuds firmly planted in my ears. I fell in love with the couple as they fell in love with one another.
The side plot involving Emma's grandma, Kat, finding potential romance with old friend Russell is sweet and adds dimension to the overall story. The best side plot, however, is Aunt Mary and Kat coming together with their own, well-intentioned scheming. At more than one time I was laughing so hard, and it reminded me of my favorite Friends episode when Phoebe and Rachel figured out Monica and Chandler were secretly dating.
While Yours to Keep is near perfect because of the building romance and side antics of the characters, what makes it one of my favorite books is that it also packs a powerful emotional punch. As time grows short for Emma and Sean's faux engagement, my heart was on edge waiting for each to admit there was more between them than "pretend." At one point, tears flowed freely and my heart breaking, making their eventual HEA so much better.
Once again Lauren Fortgang narrates a wonderful cast of characters, giving each his or her own voice. She hits all the right notes and I seriously can't imagine anyone else behind their rolls.
When I started the book, I thought Yours to Keep might have been cliche, but I should have known better with Shannon Stacey penning the tale. I absolutely loved every part of this book and will definitely read/listen to it again. Yours to Keep is sublime mix of sweet love, genuine humor, family antics, and most of all a beautiful romance. If you haven't checked out the Kowalski Family yet, I strongly recommend this delightful contemporary romance series. Simply amazing.
My Rating: A+
Narration A+
In addition, Yours to Keep is also one of…
All He Ever Needed (Book #4)
Mitch Kowalski has found huge success as a premiere demolition expert. Always on the road, going from job to job, and enjoying life. But when his surrogate mom, Rosie, calls to let him know his baby brother Josh has a broken leg and can't keep up the family snowmobile lodge, Mitch returns home to Whitford Maine.
Paige Sullivan grew up with a "free spirited" mom who would move the pair from place to place in an effort to be with a new man. So when her car broke down in Whitford, Paige decided to finally put down roots. She bought, renovated, and reopened the town's diner and has been living there, man-free, for 2 years.
The fourth title in Ms. Stacey's amazing Kowalski Family series moves from New Hampshire to small-town Maine. Mitch is cousin of the NH Kowalskis and the eldest brother to Sean, hero from the previous book. I was worried that the stories would lose some of their magic with the change in locale, family, and narrator, but I am happy to report I worried for nothing.
Overall, All He Ever Needed is fantastic, and I LOVE Mitch and Paige. The couple have instant chemistry, but don't fall right into bed. I love that Paige makes Mitch work to win her over. This made for excellent banter and created amazing sexual tension. I also loved meeting all of the key residents of Whitford, which was never overwhelming. I felt like I was right there, hanging out at the dinner.
As per the earlier titles in the series, the author spins a few side stories around the primary romance. This time around, the author tackles a couple serious issues including divorce and forgiveness centered around infidelity, which gives the story a bit of a more serious feel than the first three Kowalski books. It definitely made the book a bit more realistic, but fortunately, didn't weight down the primary romance.
After loving Lauren Fortgang's work in the first three books, I wondered if I could enjoy another narrator. However, my worry was for nothing, because Renee Werbowski does an amazing job. I think the fact that the setting moved to a new location, introducing a cast of all new characters, helped make for a smoother transition. But honestly, I was impressed with Ms. Werbowski's performance all around. My only complaint is that when the dialogue jumped quickly back and forth between two people, sometimes it was hard to follow who was who.
Overall, a wonderful story.
Story: A-
Narration: A-