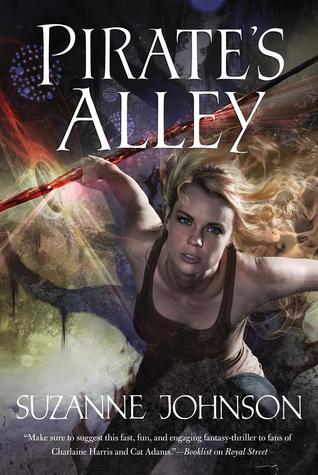 Pirate's Alley
Author: Suzanne Johnson
Reviewer: Jen Twimom
Rating: A-
What I'm Talking About:
Although barely any time has passed in Ms. Johnson's thrilling Sentinels of New Orleans series, it's been about twenty long months since the last book. I was worried that I wouldn't remember all of the details of the complex and ever-changing world. However, Ms. Johnson does an amazing job bringing readers up to speed and recounting the truly important facts. There were some pretty huge revelations and world-changing events that happened during the previous book, Elysian Fields, and I strongly urge any who may be new to the series to at least start with Elysian Fields before jumping into Pirate's Alley.
I'm going to say right up front that I really enjoyed Pirate's Alley and honestly couldn't put it down. With that said, it's not really its own story, but rather a continuation of the previous book, chronicling the repercussions from Elf Quince Randolph, aka Rand's faux romance of DJ's best friend, Eugenie, and subsequent forced bonding/mating with DJ. The book unfolds like a huge conspiracy theory plot, uncovering subterfuge at every turn. It was completely different and unexpected, yet altogether entertaining. I kept waiting for a big bad to show up and start causing mayhem, sending DJ on the hunt for a mysterious killer or such. But it never happened. That's not what this book is about.
However, Pirate's Alley is filled with gripping plot twists and intense emotional moments. Ms. Johnson balances the fallout and duplicity in the preternatural community generating from Rand's mischief with DJ's personal and emotional development. DJ explores her friendship with Eugenie, attraction to Jean Lafitte, and feelings for boyfriend Alex Warin, as well as evaluates her place within the preternatural world and wizarding community. I was prepared to be very angry with Ms. Johnson if certain things didn't go the way I wanted, and yet, when they did go against my desires, I was completely awed by the author's storytelling. She nailed it and made a better story for it.
Pirate's Alley is emotionally gripping and intellectually stimulating, and may be my favorite of the series. It is a must-read for fans of the series. While there really isn't an overarching plot line, the story was engrossing nonetheless. Dealing with the fallout and repercussions from the previous book, the story transitions to a point where lines are drawn and the potential of war is on the horizon. My heart was totally tugged back and forth: expecting one thing, getting another, only to have it be something completely different in the end. I am very happy with the direction Ms. Johnson takes the primary characters, and it's the characters and their actions that make this book and series so compelling. I want more. Now.
My Rating:  A- Enjoyed A Lot
About the Book:
Wizard sentinel DJ Jaco thought she had gotten used to the chaos of her life in post-Katrina New Orleans, but a new threat is looming, one that will test every relationship she holds dear.
Caught in the middle of a rising struggle between the major powers in the supernatural world—the Wizards, Elves, Vampires and the Fae—DJ finds her loyalties torn and her mettle tested in matters both professional and personal.
Her relationship with enforcer Alex Warin is shaky, her non-husband, Quince Randolph, is growing more powerful, and her best friend, Eugenie, has a bombshell that could blow everything to Elfheim and back. And that's before the French pirate, Jean Lafitte, newly revived from his latest "death," returns to New Orleans with vengeance on his mind. DJ's assignment? Keep the sexy leader of the historical undead out of trouble. Good luck with that.
Duty clashes with love, loyalty with deception, and friendship with responsibility as DJ navigates passion and politics in the murky waters of a New Orleans caught in the grips of a brutal winter that might have nothing to do with Mother Nature.
War could be brewing, and DJ will be forced to take a stand. But choosing sides won't be that easy.
Release Date: April 21, 2015
Publisher: TOR
Series: Sentinels of New Orleans #4
ISBN: #978-0765376978
Genre: Urban Fantasy
Format(s): hardcover (350 pages), e-book
Book Source: Author
Purchase Info:
Pirate's Alley (Sentinels of New Orleans #4)
Reviews in the Series:
River Road by Suzanne Johnson (Sentinels of New Orleans #2)
Elysian Fields by Suzanne Johnson (Sentinels of New Orleans #3)