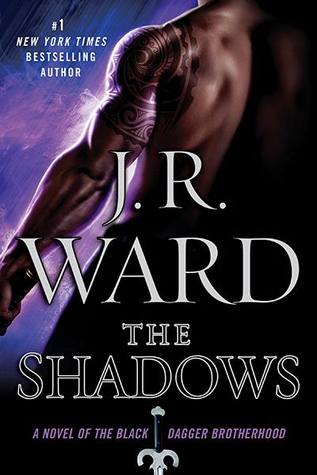 The Shadows
Author: JR Ward
Reviewer: Jen Twimom
What I'm Talking About:
I freely admit that I am a JR Ward – Black Dagger Brotherhood junkie. I will devour a book, pick it apart, complain about what did or did not happen, and still go back for more the following year. I preordered The Shadows the day it was available. I cannot stop myself. With that said, this book may be the one that breaks me. I don't know if I can keep coming back… I guess I'll find out next year.
Please note, this review is written in mind of those who are familiar with the series and characters, and may not make much sense to those who've never read the books. I plan to make my review as spoiler-free as possible, while explaining how I feel about The Shadows. If you have remained spoiler-free to this point, kudos to you.  When I started the book and heard that spoilers were running rampant on social media, I stayed away. However, I did hear that people were very angry about something that happens. I thought, "What could possible happen to get people that worked up about with a JR Ward book? This is the same woman who tells us her characters hate her and made a heroine into a ghost that isn't a ghost." Well… I can fully understand now why folks feel the way they do. I can honestly say that Ward did something that she's never done in any of the BDB books, nor is it something I ever thought I'd see from this series. What was it? Just visit Ward's own sites or any of the numerous reviews that spill the beans.
The Shadows is one of the better books from Ward in recent years. Filled with product placements, pop culture references, and rap songs, Ward gives readers exactly what we expect. I felt that the story overall was very cohesive and flowed smoothly, which is something that has been missing. She finally got back to spending most of the book focusing on the primary romantic pairing. With the book title, The Shadows, I expected romantic storylines for both Shadow twins, Trez and iAm. While both brothers received page time, the Trez-Selena story ate up probably 75% of the book, whereas iAm's story was a much smaller percentage. Although it didn't necessarily bother me during the bulk of the book, in the end I felt Ward should have spent more time on iAm and made the two stories more balanced. Additionally, there are a couple of Assail POVs, one or two Lesser POVs, some Xcor/Layla and Band of Bastards time.
There was also some significant page time for Rhage which I was totally geeked for at first. However, something odd is going on with Rhage and it's left unresolved by the end of the book, which makes sense since Ward announced at her Q/A session over the weekend that Rhage and Mary would be the focus of next year's story. But I would have liked it better if there had been less face time for Rhage since he will be getting his own story next time. In addition, Ward spent a decent amount of time introducing us to Paradise, daughter of Wrath's First Advisor. She is one of the central characters in the BDB spinoff series, coming out later this year. I didn't mind the page time, however at well over 500 pages in this book, these scenes could have been edited out and it probably would have made for better flow.
Back to the primary focus… the Shadows. I really liked Trez and iAm's intertwining story and how the complications of Trez's forced mating with the Princess all played out. I adored Selena and Trez's love story. It was one of the best romances from BDB in a very long time. Selena is a heroine I could get behind. She didn't take any crap, and although she's got a horrible disease, she refuses to let it control her life. She loves Trez with everything she's got, and she won't let him love her back without the same ferocity. And Trez completely changes because of his love for Selena and her love for him. It was pretty much near perfect.
So why the hate? Without spoilers, I will tell you that the ending of this book, the ultimate resolution, was so egregious in my mind and heart, that it left me unsettled and speechless. I honestly enjoyed so much of the book and was pleased with the direction Ward took with several of the parts. But the way the story ends is unacceptable within the parameters and personal expectations I have for the series.
Now what? I don't know how to rate The Shadows. I'd say for the first 80% of the book, I was ready to give the story a B+ or A-. The last 20% … I just don't know. The thing is, the writing was pretty good even in that last 20%, and I kept reading, waiting for something, anything to make me feel better about what happened, but it never came. I don't feel the book deserves a failing grade, yet the ending failed me. So for the first time since I started reviewing, I am leaving a book without a rating.
My Rating: No rating
About the Book:
Trez "Latimer" doesn't really exist. And not just because the identity was created so that a Shadow could function in the underbelly of the human world. Sold by his parents to the Queen of the S'Hsibe as a child, Trez escaped the Territory and has been a pimp and an enforcer in Caldwell, NY for years- all the while on the run from a destiny of sexual servitude. He's never had anyone he could totally rely on… except for his brother, iAm.
iAm's sole goal has always been to keep his brother from self-destructing- and he knows he's failed. It's not until the Chosen Serena enters Trez's life that the male begins to turn things around… but by then it's too late. The pledge to mate the Queen's daughter comes due and there is nowhere to run, nowhere to hide, and no negotiating.
Trapped between his heart and a fate he never volunteered for, Trez must decide whether to endanger himself and others- or forever leave behind the female he's in love with. But then an unimaginable tragedy strikes and changes everything. Staring out over an emotional abyss, Trez must find a reason to go on or risk losing himself and his soul forever. And iAm, in the name of brotherly love, is faced with making the ultimate sacrifice…
Release Date: March 31, 2015
Publisher: NAL
Series: Black Dagger Brotherhood (BDB) #13
ISBN: #978-0451417077
Genre: Paranormal Romance
Format(s): hardcover (592 pages), e-book, audiobook
Book Source: Purchased with my own funds
Purchase Info:
The Shadows (Black Dagger Brotherhood #13)
Reviews in the Series:
Lover Mine by J.R. Ward (Black Dagger Brotherhood #8)
Lover Unleashed by J.R. Ward (Black Dagger Brotherhood #9)
Lover Reborn by J.R. Ward (Black Dagger Brotherhood #10)
Lover at Last by J.R. Ward (Black Dagger Brotherhood #11)
The King by J.R. Ward (Black Dagger Brotherhood #12)