Her Wild Hero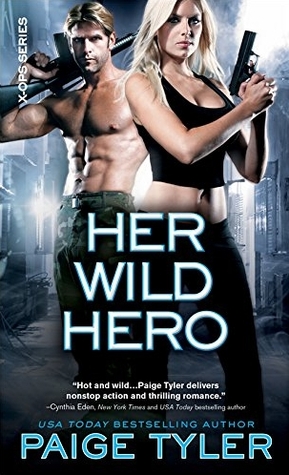 Author: Paige Tyler
Reviewer: Gikany & Una
Rating: B
What We're Talking About:
Her Wild Hero has been an anticipated read for Gikany and Una since we were introduced to Declan and Kendra in the first novel in the X-Ops series.  Overall we liked Declan and Kendra's story though there were a few odd elements.
The action was so ramped up that it was almost too much.  The majority of the novel spent with our heroes trapped in the jungle, trying to escape overwhelming odds of hybrids.  Although more information was gleaned for the overarching plot lines in the end, the action was almost too much to take.
Declan and Kendra's romance was wedged in between bouts of intense action. Though it provided much needed breaks from the intense fighting scenes, it was in complete contrast to the violence around them.  These very tender moments helped to bring them together, even as Declan fought against the attraction he thought he had overcome.  Kendra, realizing the horrendous mistake she made in rebuffing Declan's advances, tries to restart the romance.  Their dance is touching as they open up to one another.  Declan's past truly haunts his future until Kendra, keeping him a prisoner of sorts.  Watching them open up to each other and come together was beautiful.
One of the odd things, not necessarily an issue for us, was that Kendra was a "G.I. Jane" in this adventure. We wondered where Kendra, a desk jockey, got all this military grade training. We can understand her having nerves of steel from working around this group for seven years, but to be able to clean a machine gun in the dark perfectly and to be an expert shot?  Did she secretly serve in the infantry before she got her masters in psychology?  It felt as if there was some backstory missing here.  Even Declan was surprised, and we kept hoping he would ask the question to at least quench our disbelief. It never happened. This one aspect was a bit of a stretch for us but we were able to go with it as it did aid in moving the story along.
Overall, we liked Her Wild Hero and enjoyed the story of Declan and Kendra.  Though Kendra's backstory may have lacked some info, it didn't detract from our enjoyment of her journey with Declan. Although the action was a bit much, we are intrigued with the discoveries made at the conclusion of the novel and eagerly look forward to the next installment.  The X-Ops series continues to be a fun and exciting paranormal military read.
Our Rating:  B, Liked It
About the Book:
Name: Kendra Carlsen
Rank: Trainer, Dept. of Covert Ops
Objective: Get out of the office and into the field
Name: Declan MacBride
Rank: Munitions Expert, Dept. of Covert Ops
Status: Bear Shifter
Objective: Protect Kendra at all costs
The steamy Costa Rican jungle brings out the bear in Declan MacBride when he and new operative Kendra Carlsen are ambushed. In the midst of relying on each other to survive, and fighting his explosive attraction to Kendra, this shifter is about to lose control… 
Release Date: May 5, 2015
Publisher: Sourcebooks
Series: X-Ops #3
ISBN: #978-1402292156
Genre: Paranormal Romance (Military Themed)
Format(s): Paperback (352 pages), e-book
Book Source: Publisher/NetGalley
Purchase Info:
Her Wild Hero (X-Ops #3)
Reviews in the Series:
Her Perfect Mate by Paige Tyler (X-Ops #1)
Her Lone Wolf by Paige Tyler (X-Ops #2)