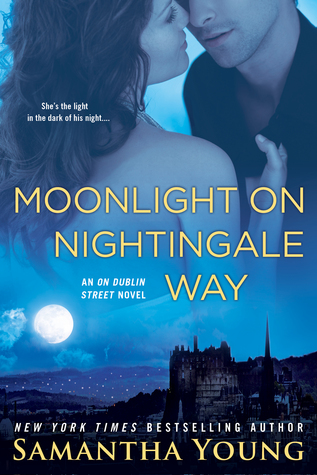 Moonlight On Nightingale Way
Author: Samantha Young
Reviewer: Luisa (Guest Review)
Rating: A-
What I'm Talking About:
This final installment of the On Dublin Street series might be the last, but the story will stay forever in my heart. Being this the last book of one of my favorite series, my expectations were really high, however Samantha Young did not disappoint. As I was reading this book, I couldn't help but feel nostalgic and a little apprehensive as I read about a brand new characters. My fears were quickly at ease, as I was quickly consumed by the story.
Our heroine Grace Farquhar (formerly Gracelyn Bentley) is a young self-employed editor who works from home. At first, Grace seems to be lonely and unfriendly, especially to her new noisy neighbor, who has no problem having company –mostly of the female kind–at any time of the day.
Logan McLeod is a young bachelor that's had his share of trials in life. But Logan has learned from his mistakes, and he knows that there's no time to waste. Just as Logan feels like he finally has a hold of his life, he learns that a person from his past has been hiding something from him for years, something that could potentially change his life yet again.
Living across the hall from Logan, is as close as Grace wants to get to her very attractive yet arrogant neighbor, but after witnessing the shock in Logan's eyes as he learns of a truth that has been hidden from him, she can't help but to offer help. Logan welcomes Grace's offer as he finds himself perplexed with the news. As Grace learns about Logan's past, she can relate to him. Family drama is something Grace is familiar with and she understands the challenges that are ahead of them.
As the the story unfolds, Grace and Logan become closer than they ever thought possible, which inevitably will force them to admit that the heart  sometimes can't be forced into reason.
The story sets a perfect balance of the themes that we are accustomed to seeing in this series. Samantha Young's character development is flawless as usual. Her story telling is always captivating, and as we close the last chapter in this series, the flow of the plot and the background story intertwine beautifully. As per usual, fans and new readers alike will enjoy  this story and the new characters just as much as all the other On Dublin Street series regulars.
My Rating:  A- Enjoyed A Lot
About the Book:
Logan spent two years paying for the mistakes he made. Now, he's ready to start over. He has a great apartment, a good job, and plenty of women to distract him from his past. And one woman who is driving him to distraction…
Grace escaped her manipulative family by moving to a new city. Her new life, made to suit her own needs, is almost perfect. All she needs to do is find her Mr. Right—or at least figure out a way to ignore her irresistible yet annoying womanizer of a neighbor.
Grace is determined to have nothing to do with Logan until a life-changing surprise slowly begins turning the wild heartbreaker into exactly the kind of strong, stable man she's been searching for. Only just when she begins to give into his charms, her own messy past threatens to derail everything they've worked to build…
Release Date: June 2, 2015
Publisher: NAL
Series: On Dublin Street #6
ISBN: #978-0451475619
Genre: Contemporary Romance
Format(s): paperback (352 pages), e-book, audiobook
Book Source: Publisher
Purchase Info:
Moonlight on Nightingale Way (On Dublin Street #6)
Reviews in the Series:
On Dublin Street by Samantha Young (On Dublin Street #1)
Down London Road by Samantha Young (On Dublin Street #2)
Before Jamaica Lane by Samantha Young (On Dublin Street #3)
Fall From India Place by Samantha Young (On Dublin Street #4)
Echoes of Scotland Street by Samantha Young (On Dublin Street #5)