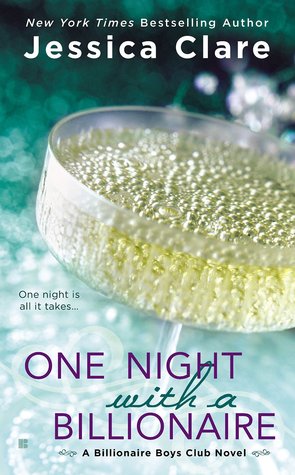 One Night with a Billionaire
Author: Jessica Clare
Reviewer: VampBard
Rating: A
What I'm Talking About:
FINALLY! Cade Archer has been so entirely screwed over in this series. I couldn't wait until he got his own happily-ever-after. Could. Not. Wait. But when I realized Daphne didn't get clean—and I want to state, for the record I'm okay with that—I got a bit giddy. Okay. Maybe that was a little spoilerish. But…but…the blurb talks about Kylie. So I didn't *really* spill the beans, right?
So, throughout the entire series, Cade has been in love with Daphne, rock star diva. If you've read the Billionaire Boys Club series, you know all about the whole thing going on with Cade and Daphne. His pining for her, and that totally unhealthy relationship. In Reese and Audrey's book, I thought I'd go nuts with how things played out (also, if you HAVEN'T read Reese & Audrey's book, you should).
This book was full of awesome. Seriously. By the time I reached the end, I had a silly grin on my face, and all the feels. It felt like the end of the series—all the Brothers have their HEA. I am content. Enough of my gushing…on to why!
Cade. I loved seeing him lose control. I loved watching him fall for Kylie. It was a reckless, all-encompassing free-fall for him. With the whole Daphne thing, it was beautiful watching him 'wake up'. The way he was so immediately enraptured, yet taking care of business. He preoccupation with Kylie. It was refreshing, and not at all stalker-ish. Billionaire stories can get that way. One scene, however, made me absolutely joyful. Cade's never been the typical alpha. Initially, this *specific* scene made me wary, but as it went on, Ms. Clare was artfully depicting Cade's drive to possess Kylie. It was raw, it was alpha, and I had goosebumps. With all Cade endured to be with Kylie, I was so glad when the end came. Each turn of events, each element that drove them apart only served to steel Cade's resolve to be with Kylie. That, ladies and gentlemen, is one thing I truly love about this man. He Never. Gave. Up.
Kylie had a rough upbringing. She is paying for a nursing home for her grandmother with dementia. Her parents died when she was young. Raised by a resentful grandmother, she has serious self-esteem issues. She is hired to be Daphne's makeup artist on tour, because she's fabulous. Drugged-out Daphne can't remember names, so everyone is assigned a nickname. Kylie earned 'Fat Marilyn' for her 50s garb and style. Gotta be honest. This made me hate Daphne even more, and it made me irritated and uncomfortable. Curvy girls don't get enough page time in romance—after all, a preponderance of the female population happens to sport generous curves. I immediately identified with Kylie, and I loved her as a character. Her desire for independence, and her devotion were two key elements of her character that endeared her to me. Fortunately, Cade saw some qualities in Kylie that made him pursue her.
Because I can't write any more about this phenomenal conclusion to the Billionaire Boys Club series without being spoilerific, I urge anyone that has ever wanted to read a billionaire book, anyone with the urge to see the non-traditional girl get the guy, to pick up One Night with a Billionaire. Even if you haven't read the first five titles in the series, it doesn't spoil too much—you'll be hooked enough to buy the rest of the series. On second thought? Binge-read these close-knit billionaire's stories and wrap 'em up in nice, neat bow with this one.
My Rating: A, Loved It
About the Book:
Kylie may be a makeup artist to the stars, but she knows what it feels like to be overshadowed. Especially by her famous boss, the pop star Daphne. That's why she's stunned—and delighted—when one night at a party, she attracts the attention of a gorgeous stranger. But when Daphne decides she wants the handsome billionaire for herself, Cade Archer is suddenly off-limits for Kylie…
Cade has known Daphne for years, and always wondered if she might be the right woman for him—even though she never gave him the time of day. But one sizzling night with Kylie has changed everything. So why is she suddenly avoiding him? Fortunately Cade is determined to get what he wants, and he'll do anything to show Kylie she can get everything she wants too… 
Release Date: June 2, 2015
Publisher: Berkley
Series: Billionaire Boys Club #6
ISBN: 978-0425275795
Genre: Contemporary Romance
Format(s): paperback (294 pages), e-book, audiobook
Book Source: NetGalley/Publisher
Purchase Info:
One Night with a Billionaire (Billionaire Boys Club #6)
Reviews in the Series:
Stranded with a Billionaire by Jessica Clare (Billionaire Boys Club #1)
Beauty and the Billionaire by Jessica Clare (Billionaire Boys Club #2)
The Wrong Billionaire's Bed by Jessica Clare (Billionaire Boys Club #3)
Romancing the Billionaire by Jessica Clare (Billionaire Boys Club #5)