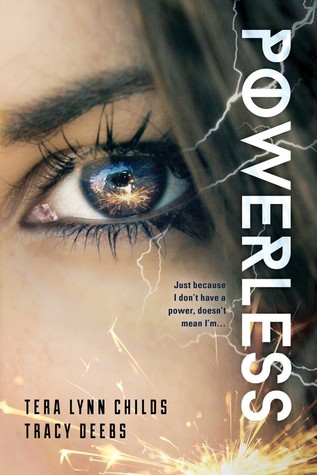 Powerless
Author: Terra Lynn Childs & Tracy Deebs
Reviewer: Gikany & Una
Rating: A
What We're Talking About:
Powerless is a fabulous start in the new young adult series, The Hero Agenda.  It was a fast paced, riveting, and engaging new novel in a world of Heroes and Villains with super abilities.
Gikany and Una really loved the debut book of this series.  Although it is a young adult novel, anyone from a mature junior high student to an adult will enjoy it.  There are some moments of romance and allusions to sex, but nothing graphic.
What really is captivating about Powerless is our heroine, Kenna.  She is an ordinary in a world of supers.  Her father was a Hero and her mother works for the Heroes organization.  Her whole life she has lived in fear of the Villains because she has seen what they can do.  Although Kenna is ordinary, she is fearless.  When faced with Villains, she doesn't run away, but tries to protect others and the research she and her mother have worked on.  From this confrontation, Kenna discovers that her world is not what it seems.  Life is not black and white.  Her coming of age is more than getting comfortable with herself; she must also come to understand the complexities of her world.  It was really fascinating.
Another aspect that we enjoyed was the seamless world-building.  The novel starts with action and the tension never really ebbs.  As Kenna navigates from one encounter to another, we learn more about the world – just as she is.  We see the veil being removed from Kenna's eyes and journey with her as she painfully matures.  It is emotionally charged as Kenna learns the world is not black and white.
We eagerly look forward to the next novel in the Hero Agenda.  If you are looking for something new and riveting in the young adult genre, look no further.  Join a new adventure in a fascinating world with engaging characters, an action-packed plot, and riveting storyline.  Check out the new supers in Powerless.
Our Rating:  A, Loved It
About the Book:
Kenna is tired of being "normal". The only thing special about her is that she isn't special at all. Which is frustrating in a world of absolutes. Villains, like the one who killed her father, are bad. Heroes, like her mother and best friend, are good. And Kenna, unlike everyone else around her, is completely ordinary— which she hates.
She's secretly working on an experiment that will land her a place among the Heroes, but when a Villain saves her life during a break-in at her lab, Kenna discovers there's a whole lot of gray area when it comes to good and evil and who she can trust.. After all…not all strength comes from superpowers.
Release Date: June 2, 2015
Publisher: Sourcebooks
Series: Hero Agenda #1
ISBN: # 978-1492616573
Genre: Young Adult, Urban Fantasy
Format(s): hardcover (308 pages) e-book
Book Source: Publisher//NetGalley
Purchase Info:
Powerless (Hero Agenda #1)