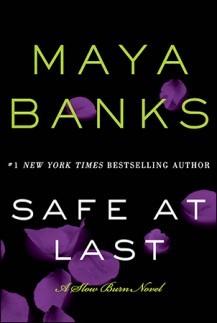 Safe at Last
Author: Maya Banks
Reviewer: VampBard
Rating: B-
What I'm Talking About:
Maya Banks' Slow Burn series has been a wild rollercoaster of a ride. I had high hopes for Safe at Last, but I ended up being pretty meh about it.
First, I read an ARC. I edit books, I know things change. However, I felt like the first 2/3 of the book was slow, rehashed a bazillion things we knew already without much purpose. Maybe this was looked at in the final version (and I hope so). I came VERY close to not finishing this title at about the 45% mark because I just couldn't stomach the rehashing anymore. Dramatic eye-rolling may have ensued. And I may have groaned in disgust a few times.
After about the 60% mark, the story picked up. Things fell in line parallel to how I'm used to Ms. Banks' stories rolling. I'm not going to tell readers to skim-read chunks of a book, but it really was worth getting to this point for me. The last 40% of Safe at Last saved the title from a D rating from me.
Gracie started out as a really timid, whiny character for me. I didn't even really see her character growth until that last 40%, and it was BAM! There it was. I ended up liking her, because she turns pretty badass at the end. And she loves Zack, who definitely deserves it. She had dealt with an ultimate mind-fu*$ when she was merely a child, and the effects lasted through her adulthood. A long twelve years. Can't really tell you much about Gracie, without spoilers, except her character growth was worth trudging through the first 60% of the book.
It was really intriguing to get to know Zack. We haven't learned much about him in previous titles of the Slow Burn series, but seeing this highly-trained, and dangerous in his own right dude completely flattened. His vow of vengeance is not taken lightly, and I'm not even sure how Ms. Banks wrote his character, having to bring him and his white-hot need for justice to heel. I clearly liked Zack better than Gracie. He felt so broken from the beginning of the book, and even though the beginning seemed to be just tormenting him more, we ended up seeing Zack's true colors at the end.
Definitely read the first two titles of the Slow Burn series before taking on Safe at Last. The beginning starts out slow, and is repetitive, but the last 40% makes up for it. Definitely worth the read for readers of the series. Just might take some time to get into it.
My Rating: B- Liked It, but I had a few small issues
About the Book:
They say young love doesn't last, but a girl from the wrong side of the tracks with unique abilities and the hometown golden boy were determined to defy the odds. For Zack Covington, Anna-Grace—his "Gracie"—was the one. Until one night forever alters the course of their future, when a devastated Gracie disappears without a trace, leaving Zack to agonize over what happened to the girl he loved. As the years pass, his desperate efforts to find her uncovered nothing.
Now working for Devereaux Security, he stumbles across a painting featuring a special place only he and Gracie would know. The image is too perfectly rendered for it to be coincidence. His Gracie must be alive. When he finally tracks her down, he is shocked—and heart-broken—to discover the wounded shell of the girl he once knew and still loves. Her psychic gifts are gone, and worse, she believes he betrayed her all those years ago.
Zack has enemies, and once his weakness is discovered, Gracie becomes a target for revenge. He'll have to save her before he can earn her trust and her love. And he vows they'll never be torn apart again.
Release Date: June 23, 2015
Publisher: Avon
Series: Slow Burn #3
ISBN: 978-0062312501
Genre: Romantic Suspense, Paranormal elements
Format(s): paperback (256 pages), e-book, audiobook
Book Source: Edelweiss
Purchase Info:
Safe at Last (Slow Burn #3)
Reviews in the Series:
Keep Me Safe by Maya Banks (Slow Burn #1)
In His Keeping by Maya Banks (Slow Burn #2)