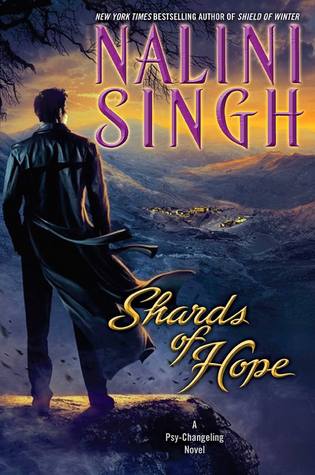 Shards of Hope
Author: Nalini Singh
Reviewer: Jen Twimom
Rating: B
What I'm Talking About:
Opening shortly after the conclusion of the previous book, Shards of Hope shares the story of a post-Silence world, one which sees the fierce and deadly Arrows trying to adapt. Arrow leader Aden, along with one of his top commanders, Zaira, is taken captive by an unknown group, resulting in a temporary disconnect from the PsyNet. This opens up the opportunity for Aden to learn from a Changeling pack and begin to implement post-Silence ideas into his "Arrow pack."
Overall, I enjoyed Shards of Hope as a transitional book, bringing the Psy and whole world from Silence into post-Silence. While I enjoyed Aden and Zaira's romance, it was very slow moving (which is expected being a Psy-Psy pairing), but more than that, I felt it took a backseat to the rebuilding of the Arrows, and the other subplots all too often. However, individually, I found both Aden and Zaira strong and likable characters. I was interested in their personal growth and development, which was well-written.
Ms. Singh spends a lot of time bringing readers inside the Arrows and running us through the different worldwide groups and groundbreaking changes. Aden is a wonderful leader and the perfect man to take this group of the most damaged Psy into the post-Silence world. Taking actions to mirror that of an alpha of a changeling pack, Nalini is successful in creating a relatable group for the reader. Yet, so much time was spent on the transition that I found myself getting a bit bored with it.
Similarly, I enjoyed reading about the familiar powerful players work through misunderstandings generated by the mischievous Consortium. Knowing that this dangerous and dark group would have been successful in its endeavors to throw the world into chaos just a few books ago, makes the changes all the more rewarding for longtime readers of the series. Yet the multiple POVs and various situations began to weigh down the story and push out the romance.
The other big subplot that took time away from the romance is that of a missing changeling child. I liked this one most of all because it strongly parallels Zaira's own development as she grapples with what Aden wants and needs from her as a partner and lover. As Zaira tries to save the missing girl, Zaira is also saving the lost little girl inside of her own psyche.
Aden and Zaira make a great team and couple. Once their romance starts in earnest, it is spectacular. However, it takes over half the book to even pick up, and once it does, it continues to be pushed aside for the other plots. I felt the book would have been more enjoyable with a better balance between all the parts and pieces.
In the end, I strongly enjoyed much of Shards of Hope, and find it a worthy part of the whole as one story in a huge series. The book is another transitional, post-Silence story, and I'm hoping that Ms. Singh now has all the parts and players in place to move forward. As much as I like the book and the few before this one, I'm burned out on the non-changeling romances. I need some of that fire and passion that once dominated the books, making the Psy-Changeling series one of my favorites.
My Rating:  B, Liked It
About the Book:
Awakening wounded in a darkened cell, their psychic abilities blocked, Aden and Zaira know they must escape. But when the lethal soldiers break free from their mysterious prison, they find themselves in a harsh, inhospitable landscape far from civilization. Their only hope for survival is to make it to the hidden home of a predatory changeling pack that doesn't welcome outsiders.
And they must survive. A shadowy enemy has put a target on the back of the Arrow squad, an enemy that cannot be permitted to succeed in its deadly campaign. Aden will cross any line to keep his people safe for this new future, where even an assassin might have hope of a life beyond blood and death and pain. Zaira has no such hope. She knows she's too damaged to return from the abyss. Her driving goal is to protect Aden, protect the only person who has ever come back for her no matter what.
This time, even Aden's passionate determination may not be enough—because the emotionless chill of Silence existed for a reason. For the violent, and the insane, and the irreparably broken…like Zaira.
Release Date: June 2, 2015
Publisher: Berkley
Series: Psy-Changeling #14
ISBN: #978-0425264034
Genre: Paranormal Romance
Format(s): hardcover (496 pages), e-book, audiobook
Book Source: Publisher
Purchase Info:
Shards of Hope (Psy-Changeling #14)
Reviews in the Series:
Bonds of Justice by Nalini Singh (Psy-Changeling #8)
"Whisper of Sin" by Nalini Singh (Burning Up) (Psy-Changeling #0.6)
Play of Passion by Nalini Singh (Psy-Changeling #9)
Kiss of Snow by Nalini Singh (Psy-Changeling #10)
Tangle of Need by Nalini Singh (Psy-Changeling #11)
Wild Invitation by Nalini Singh (Psy-Changeling #0.5, 3.5, 9.5, 10.5)
Heart of Obsidian by Nalini Singh (Psy-Changeling #12)
Shield of Winter by Nalini Singh (Psy-Changeling #13)
"Secrets at Midnight" by Nalini Singh (Night Shift) (Psy-Changeling #13.5)