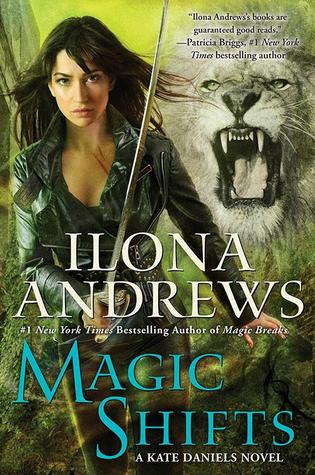 Magic Shifts
Author: Ilona Andrews
Reviewer: Jen Twimom
Rating: A+
What I'm Talking About:
It's honestly becoming difficult to write reviews for the Kate Daniels series because I cannot find the words to express how amazing the books and overall series are. The world building, story telling, plot development, characters' relationships… every aspect of the series… it all works so well, the stories are darn near perfection. Every book, while completely original, builds upon the previous story, creating an utterly sublime experience, making me want to reread the series from the beginning each time. If you aren't reading the Kate Daniels series, you are missing out.
Note: This review may contain spoilers from earlier titles in the series.
So let's begin with Magic Shifts. It's been about two months and Kate, Curran, and Julie are enjoying some down time in their new home in the suburbs. Curran is adjusting to retirement as best as he can, but the gang cannot step foot in the Keep or sway anyone into leaving the Pack with them. This is an important point because Mahon's daughter, George, comes to seek help from Kate and Curran in locating her fiancé, Eduardo. Pack politics and a disapproving father have left George desperate to find the man she loves. Unfortunately, the missing were-bison is only the tip of the iceberg for the gang.
Magic Shifts is a transitional book for the series, yet it is so much more. What makes this book in particular so wonderful?
Kate and Curran. Now that Kate has confronted her father and laid claim to Atlanta, she no longer has to hide her magic. Plus Curran is no longer the Beast Lord, so he's got time on his hands. I absolutely love the interactions between the couple and family dynamics with Julie. Kate and Curran's relationship has developed to a whole new level. Their mutual respect and love grows with each interaction, making them my absolute favorite literary couple.
World-building. It's complex and so very interesting. I always admire how the authors take generally obscure and unknown mythology, twisting it to fit their magic-infused world. It becomes so logical and believable because they always cover all the basis and explain the intricacies. Magic Shifts makes me want to learn more about Arabic mythology.
The characters. I have grown to care about them all. I love how in every book one or more surprise me. Only because the characters change and grow – or they don't, but their true natures are exposed. This happened more than once during the story, but it never feels forced. The character development is amazing.
Roland. I wondered how he'd fit into the series moving forward after Kate's confrontation. I both enjoyed and grew more apprehensive based on his actions and a prophesy shared during this book. Additionally, the "family time" was touching, funny, and educational.
Emotional storytelling. I don't want to give any spoilers in this one, but there is something that happens and it is heart-wrenching. When it happens, even though as the reader I believed all would be okay, both Kate and Curran don't know what will happen. Their emotional intensity during this time brought me to tears.
Post-Pack dynamics. Let's face it, from the very beginning, the Pack as been a central part of the series, and where would the series go without those characters? The authors did a great job separating Kate and Curran from the Pack, but kept all the players as central characters.
In the end, Magic Shifts is an amazing story full of action, adventure, and love. I cannot sing enough praises for the Kate Daniels series.
My Rating:  A+, Loved It – Personal Favorite
In addition, this book is one of…
About the Book:
After breaking from life with the Pack, mercenary Kate Daniels and her mate—former Beast Lord Curran Lennart—are adjusting to a very different pace. While they're thrilled to escape all the infighting, Curran misses the constant challenges of leading the shapeshifters.
So when the Pack offers him its stake in the Mercenary Guild, Curran seizes the opportunity—too bad the Guild wants nothing to do with him and Kate. Luckily, as a veteran merc, Kate can take over any of the Guild's unfinished jobs in order to bring in money and build their reputation. But what Kate and Curran don't realize is that the odd jobs they've been working are all connected.
An ancient enemy has arisen, and Kate and Curran are the only ones who can stop it—before it takes their city apart piece by piece…
Release Date: August 4, 2015
Publisher: ACE
Series: Kate Daniels #8
ISBN: #978-0425270677
Genre: Urban Fantasy
Format(s): hardcover (400 pages), e-book, audiobook
Book Source: Publisher/NetGalley
Purchase Info:
Magic Shifts (Kate Daniels #8)
Reviews in the Series:
Magic Bleeds by Ilona Andrews (Kate Daniels #4)
"Magic Dreams" by Ilona Andrews (Hexed) (Kate Daniels #4.5)
Magic Slays by Ilona Andrews (Kate Daniels #5)
"Magic Gifts" by Ilona Andrews (Kate Daniels #5.4)
Gunmetal Magic by Ilona Andrews (Kate Daniels #5.5)
Magic Rises by Ilona Andrews (Kate Daniels #6)
"Magic Steals" by Ilona Andrews (Night Shift) (Kate Daniels #6.5)
Magic Breaks by Ilona Andrews (Kate Daniels #7)