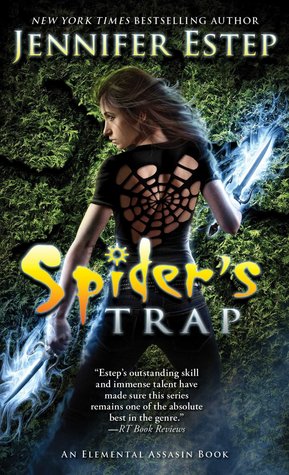 Spider's Trap
Author: Jennifer Estep
Reviewer: Jen Twimom
Rating: B+
What I'm Talking About:
Note: due to the nature of the Elemental Assassin series, this review will have spoilers from previous books.
It's been a few weeks since Gin took down her latest nemesis, MMM, and reluctantly took over as the boss of Ashland's seedy underworld. She's mediating her first dispute, one between Dimitri Barkov and Luiz Ramos for the purchase of a coin-laundry business owned by Lorelei Parker. Bored with the squabbling, Gin notices something amiss with one of the waitstaff and realizes a bomb is set to go off during the meeting. Not one for sitting still or letting an attack go unpunished, Gin begins a hunt to exact revenge.
Spider's Trap starts strong and is another fabulous story in the Elemental Assassin series. Right from the start, the author tosses Gin, and therefore the reader, into high-stakes action, and once again, when Gin saves the day, she finds herself in the middle of a mystery.
First, I enjoy watching Gin as she works her way through her new role as Queen of the Underworld. She's uncomfortable and slightly outside her element when forced to play by the unwritten rules. But luckily for the reader, Gin enjoys doing her own thing and making her own rules. Having Silvo, her self-appointed assistant, try and keep her on track makes it all the more enjoyable. I also appreciate when another mob boss calls Gin out as not being suited to lead, giving Gin something to think about while she works out how best to deal with the latest threat in Ashland.
Second, I love watching Owen and Gin work as a team. We've seen Gin get help from her friends, but now she's actually relying on them; integrating them into her plans. Gin's been through so much in the past couple of books, and seeing her move on, succeed, and grow is absolutely rewarding for me and long-term fans of the series. Ms. Estep is a master at keeping Gin and company fresh and exciting, while allowing their core nature to stay grounded and stable.
While overall, I enjoyed the story as Gin pieces together who is behind the attacks and the very important reasons for his actions, I was a bit annoyed at how often Gin struggled with her inability to recall familiar people and actions. I understand a lot as happened to Gin since becoming an assassin; however, there is no reason she should continually find things "feeling familiar" but unable to place why. It happened throughout the book, and she relied on her dreams of the past and Fletcher too often for my liking.
Additionally, I found myself confused a few times during the course of the story. Lorelei and Gin have a history. Lorelei implies things that Gin is supposed to understand. I'm not sure if Gin ever pieces it all together, but I know I didn't. I needed a more clearly spelled-out monologue outlining the issues. Maybe I'm just too dense! It didn't stop me from enjoying the story, but I did reread passages hoping to get a clearer picture of their connections and particularly Lorelei's issues, yet never quite figuring it all out.
In the end, I found Spider's Trap to be another wonderful story from the Elemental Assassin world. Gin is amazing, and even after thirteen books, I find her fresh and fascinating. Sure there is some repetition from book to book, but overall, each antagonist is unique and every story original. I am always on edge, even though Ms. Estep has never done anything to make me doubt. That is true talent.
My Rating:  B+ Liked It A Lot
About the Book:
One important lesson I've learned in the assassination business is that to be the best you have to roll with the punches. Now that I'm queen of Ashland's underworld—by default, not by choice—a lot more punches are being thrown my way. But I suppose that's the price of victory for taking down some of the underworld's top dogs. Good thing I have my Ice and Stone magic to help me survive my volatile new position. Just when I think things are finally settling down, someone tries to murder me during a hush-hush underworld meeting. But the real surprise is how strangely familiar my shadowy assailant seems to be.
My job is to maintain order among killers, crooks, and thieves, and soon I'm embroiled in a bloody game where the ability to keep secrets could be the greatest superpower of all. My enemies have all sharpened their knives and laid their traps, waiting for me to fall. But this Spider weaves her own webs of death…
Release Date: July 28, 2015
Publisher: Pocket Books
Series: Elemental Assassin #13
ISBN: #978-1501105173
Genre: Urban Fantasy
Format(s): paperback (400 pages), e-book, audiobook
Book Source: Publisher/Edelweiss
Purchase Info:
Spider's Trap (Elemental Assassin #13)
Reviews in the Series:
Spider's Bite by Jennifer Estep (Elemental Assassin #1) – Audio review
Web of Lies by Jennifer Estep (Elemental Assassin #2) – Audio review
Venom by Jennifer Estep (Elemental Assassin #3) – Audio review
Tangled Threads by Jennifer Estep (Elemental Assassin #4) – Audio review
Spider's Revenge by Jennifer Estep (Elemental Assassin #5)
Thread of Death by Jennifer Estep (Elemental Assassin #5.5)
By a Thread by Jennifer Estep (Elemental Assassin #6)
Widow's Web by Jennifer Estep (Elemental Assassin #7)
Deadly Sting by Jennifer Estep (Elemental Assassin #8)
Kiss of Venom by Jennifer Estep (Elemental Assassin #8.5)
Heart of Venom by Jennifer Estep (Elemental Assassin #9)
The Spider by Jennifer Estep (Elemental Assassin #10)
Poison Promise by Jennifer Estep (Elemental Assassin #11)
Black Widow by Jennifer Estep (Elemental Assassin #12)