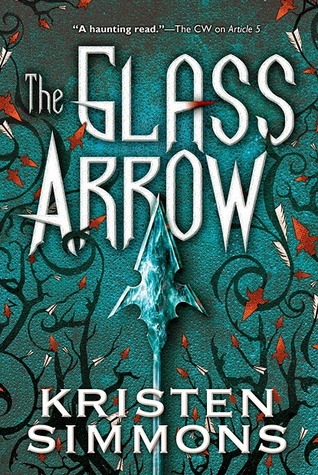 The Glass Arrow
Author: Kristen Simmons
Reviewer: Nima
Rating: A-
What I'm Talking About:
The Glass Arrow is set in a future Earth dystopia.  In this alternative future, women have been reduced to little more than cattle, bought and sold at public auction.  When the female population rises too high, female infants and children are murdered.  If they reach their young teens, they are used for breeding, entertainment, and labor.  Once they are "used up," often by the time they are forty, they are tossed aside, usually dying from drug overdose or illness.  A girl's best hope is that whomever buys her is so in love that he keeps her for his "forever wife."  The idea is primarily a myth that circulates among the girls hoping to be purchased by someone who is, at the very least, kind.
The only free women in this society are those that live in the wilds, outside the walls of the cities.  From time to time, trackers go out into the woods to round up females, as those raised in the wilds on real food, rather than supplements, are more fertile.    Living a lifestyle that is much like early American Indians, they also thrive on folktales which includes the tale of the glass arrow.  If the author will excuse my comparison, it reminded me a little of Dumbo and his magic feather.  I do not mean to make light of Simmon's story, but it is basically a talisman, real or imaginary, for courage in an untenable situation and I think there is nobility in finding the thing that will get you successfully through difficult times.  Aya, the main character must use the glass arrow to bring her family through horrific circumstances.
The book is full of very strong female characters, most of them better developed than the male characters which rule their world.  Feminist themes hit you over the head with a big stick, even going so far as to state, "These girls have no idea how pathetic they sound, each fighting for a position as the most valuable slave.  They've forgotten, or maybe they never learned, that their worth is not determined by how much a man wants them."  Aya was so driven that she was almost exhausting to read.  Being told from her perspective, the book carried the urgency of first-person present.
I will admit that despite liking the book, the world building was thin.  I wanted more explanation, but it was sufficient to understand the rules.  The characters existed sufficiently within that space as to make it plausible.  I didn't have difficulty accepting their motives or actions.  Perhaps if the story had been told in third person, we would have had more of the background I was craving either by narration or from some of the male characters.
One of my biggest pet peeves in YA stories is that teens often don't speak to each other in order to hold back information that would move the plot forward faster.  It's a transparent pacing tactic that has never felt realistic to me in any book.  Most of the teens I know have opinions and aren't shy about sharing them, especially when they're angry or upset at adults.  They yell and slam doors, but you are never left wondering about where they stand.  I was pleased that at the times when dialog did not take place in The Glass Arrow, there was solid justification for it.  It never felt contrived.
Overall, a good young adult book.  It is a sad thing that we try to make small coincidences into big associations that do not exist.  The Glass Arrow begins with a sixteen year old girl being chased in the woods.  Being a YA novel, my first thought was, "Please, not a Hunger Games copycat."  I'm happy to report that Kristen Simmons, a new-to-me author, has produced a tale that, despite having characters who fight for their lives among the trees, stands on its own two feet.  In fact, it stands alone.  I know publishers are all about series publishing these days.  I get it, it sells more books. I have to say, however, how genuinely refreshing it was to read a stand-alone, especially in the young adult market. Kudos to Tor Teen for putting out a stand-alone by an author with only three previously released books.  There have also been several comparisons made to Atwood's The Handmaid's Tale which I don't think are fair.  The Glass Arrow was written specifically for a young adult audience and, in my opinion, was not trying to compete with mainstream science fiction.
My Rating: A- Enjoyed A Lot
About the Book:
Enter book summary information here. Once there was a time when men and women lived as equals, when girl babies were valued, and women could belong only to themselves. But that was ten generations ago. Now women are property, to be sold and owned and bred, while a strict census keeps their numbers manageable and under control. The best any girl can hope for is to end up as some man's forever wife, but most are simply sold and resold until they're all used up.
Only in the wilderness, away from the city, can true freedom be found. Aya has spent her whole life in the mountains, looking out for her family and hiding from the world, until the day the Trackers finally catch her.
Stolen from her home, and being groomed for auction, Aya is desperate to escape her fate and return to her family, but her only allies are a loyal wolf she's raised from a pup and a strange mute boy who may be her best hope for freedom… if she can truly trust him.
Release Date: February 10, 2015
Publisher: Tor Teen
ISBN: # 978-0765336613
Genre: YA Fantasy/Dystopian
Format(s): hardcover (336 pages), e-book, audiobook
Book Source: Purchased with my own funds
Purchase Info:
The Glass Arrow