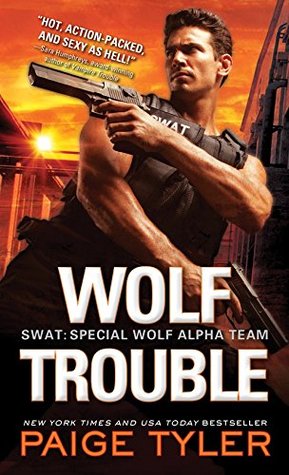 Wolf Trouble
Author: Paige Tyler
Reviewers: Gikany and Una
Rating: B
What We're Talking About:
Wolf Trouble is the second novel in the SWAT series.  Gikany and Una enjoyed Xander and Khaki's journey and thought it was even better than the previous novel, Hungry Like the Wolf.
The chemistry between Xander and Khaki sizzled and we enjoyed watching them try to deny their attraction to each other.  Once they stopped denying their connection, their passion exploded.  As they pursued their relationship, we did find it a bit silly that they insisted on hiding their relationship from their boss, Gabe, since he would understand the nature of finding "The One".  However, we could understand their fears.  Their journey was gripping and we truly liked how it was seamlessly woven with the other aspects of the novel.
The overall plot of the bank robbers was intriguing.  We enjoyed how it was entwined with Khaki's crazy ex.  Though the pace of these elements was slow, the addition of other missions helped to keep the action moving.  Although we enjoyed how the pack quickly and thoroughly integrated Khaki into their ranks, we did find her ability to catch on to SWAT procedures and skills a bit of a stretch.
We continue to like this series and wonder whose story will be next.  If you enjoy a bit of paranormal shifter in a law enforcement setting, you might just want to pick up the SWAT series.
Our Rating:  B, Liked It
About the Book:
He's in trouble with a capital T…
There's never been a female on the Dallas SWAT team and Senior Corporal Xander Riggs prefers it that way. The elite pack of alpha male wolfshifters is no place for a woman. But Khaki Blake is no ordinary woman.
When Khaki walks through the door attractive as hell and smelling like heaven, Xander doesn't know what the heck to do. Worse, she's put under his command and Xander's protective instincts go on high alert. When things start heating up both on and off the clock, it's almost impossible to keep their heads in the game and their hands off each other…
Release Date: August 4, 2015
Publisher: Sourcebooks
Series: SWAT #2
ISBN: #978-1492608509
Genre: Paranormal Romance/Military
Format(s): Paperback (352 pages), e-book
Book Source: Publisher/NetGalley
Purchase Info:
Wolf Trouble (SWAT #2)
Reviews in the Series:
Hungry like the Wolf by Paige Tyler (SWAT #1)